HEAD COACH: PHOENIX BRIGHT
ASSISTANT COACH: JESSICA FOURNIER
ASSISTANT COACH: LEZLIE SAYLOR
Coach Phoenix Bright is in her fourth season as Head Volleyball coach at Byers she has been an assistant coach here for six years prior to that. She also coached in Strasburg for two years until she was hired on here in the elementary school. Phoenix worked for Elite Volleyball Camps assisting with summer camps all over the state.
Congratulations 2021 All-League
Symantha Linnebur- All League Team
Annette Earl- All League Team
Tori Shockman- Honorable Mention All League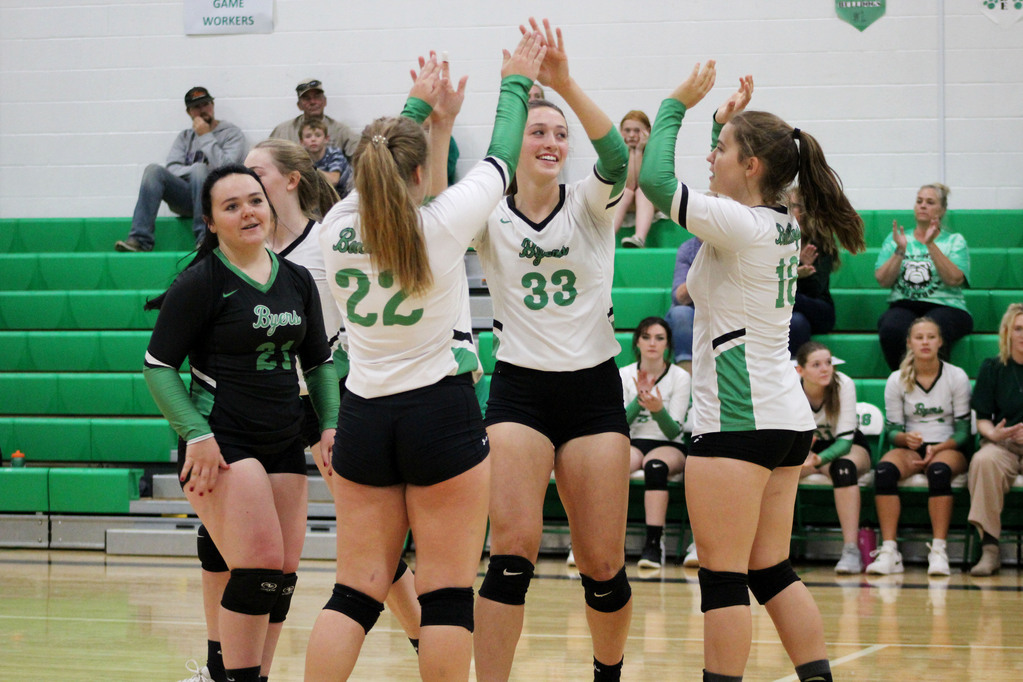 | | | | |
| --- | --- | --- | --- |
| Date | Opponent | Site | Time |
| Saturday, August 21, 2021 | Burlington (Scrimmage) | Burlington | 10:00 am |
| Tuesday, August 24, 2021 | Calhan (youth night) | Byers | 4:00 |
| Thursday, August 26, 2021 | Simla | Simla | 4:30 |
| Tuesday, August 31 , 2021 | Clear Creek | Clear Creek | 4:00 |
| Thursday, September 9, 2021 | Kiowa | Byers | 4:00 |
| Tuesday, September 14, 2021 | Elbert | Elbert | 4:30 |
| Thursday, September 16, 2021 | Bennett | Bennett | 4:30 |
| Friday, September 17, 2021 | Burlington | Byers | 3:00 |
| Tuesday, September 21, 2021 | Flagler (staff appreciation) | Byers | 4:00 |
| Saturday, September 25, 2021 | Akron Tournament (3 games) | Akron | 9:00 am |
| Tuesday, September 28, 2021 | Genoa-Hugo | Hugo | 4:00 |
| Thursday, September 30, 2021 | Deer Trail | Byers | 4:00 |
| Saturday, October 2nd, 2021 | Front Range Christian | FRC | 10:00 am |
| Tuesday, October 5, 2021 | Wiggins (Homecoming) | Byers | 4:00 |
| Saturday, October 9, 2021 | Bennett C-Tournament | Bennett | 9:00 am |
| Tuesday, October 12, 2021 | Stratton | Stratton | 4:00 |
| Tuesday, October 19, 2021 | Peyton | Byers | 4:00 |
| Thursday, October 21, 2021 | Limon | Byers | 4:00 |
| Tuesday, October 26, 2021 | Flatirons Academy | Flatirons | 4:30 |
| Thursday, October 28, 2021 | Dawson (parent/senior) | Byers | 4:00 |
| Saturday, October 30, 2021 | Limon Tournament (3 games) | Limon | 10:00 am |
| Fri or Sat , Nov 5 or 6, 2021 | Regional tournament | TBA | TBD |
| Thurs-Sat Nov 11-13, 2021 | State Tournament | Denver | TBD |
ATHLETIC DIRECTOR: JEREMY KERNS
PRINCIPAL: KELLY BOREN
SUPERINTENDENT: TOM TURRELL
Mascot: Bulldogs
Colors: Kelly Green & White