Scott Thomas
Social Studies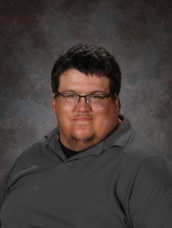 Contact Information
Email: thomas.scott@byers.k12.co.us
Phone: (303)822-5292 ext. 1194
Biography:
Hello, my name is Scott Thomas and I am so excited to be in the Byers School District. I grew up in Fowler, Colorado and graduated from Fowler High School in 2010. After graduation, I attended Otero Junior College for my Associate of Arts Degree in General Studies. Then, I transferred up to the University of Northern Colorado and received my Bachelor of Arts Degree in History and a minor in Secondary Education in 2015. From there, I went to Colorado State University-Pueblo and received my teaching license. I have taught at the Custer County School District teaching 6th-12th Grade, and 10th-12th Grade at Las Animas High School. I have helped coach football (offensive and defensive line), basketball, and track (Shot put and Discus).
This year I am teaching 7th Grade Eastern Hemisphere Geography, 8th Grade American History, HS American History, as well as JH Enrichment and juniors during Zero Hour. I also love sports and look to help coach in any sport needed. Also, I am the Knowledge Bowl sponsor for both the Jr/Sr high school.
In my free time, I love spending time with my family in southeast Colorado. I also love attending sporting events and traveling anywhere. I am a die-hard Boston Red Sox and Atlanta Falcons fan, so I like to watch their games. I am a history nut, so anywhere I can go to study history, I am there. I am excited to go on the trip to Spain and Portugal this summer and hopefully many more in the future.
Class Schedule
1st Hour: 8th Grade American History
2nd Hour: 8th Grade American History
3rd Hour: 7th Grade Geography
4th Hour: 7th Grade Geography
5th Hour: HS American History
6th Hour: JH Enrichment
7th Hour: Plan