Mr. Jeremy Kerns
Social Studies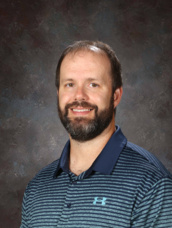 CONTACT INFORMATION:
E-Mail Address: kerns.jeremy@byers.k12.co.us
Phone Number: 303-822-5292 ext.1188
BIOGRAPHY:
Mr. Jeremy Kerns grew up on a ranch in Elbert, Colorado, and received his bachelor's degree in history with an emphasis in Secondary Education from the University of Northern Colorado. He also earned a minor in Physical Education from UNC. Mr. Kerns completed his Masters degree in History at the University of Nebraska-Kearney in May of 2009. Before coming to Byers Mr. Kerns was an assistant basketball coach for the Northern Colorado women's team for three years.
Mr. Kerns is in his 17th year as a teacher and coach at Byers School District. He currently teaches secondary Political Science, World Geography, American Geography, US History, JH and HS Leadership, Weight Lifting and junior High Physical Education. He has also taught a number of other classes over the past several years at Byers including: 7th Grade American History, 8th Grade Civics, High School Fitness and Conditioning, High School Weight lifting, High School Spanish, Colorado History, In-Depth Civil War and Reconstruction Class, In-Depth World War II Class, Social Issues through Film, Middle School Spanish and College Weight Lifting. Mr. Kerns has also worked as an adjunct professor for Morgan Community College teaching US History and Western Civilization.
Mr. Kerns performs several additional duties for the school as well. He is in his Seventh year as the school's Athletic Director, He is in his seventeenth year as the head Varsity Boys Basketball Coach, he is the Head Coach for three different junior high sports teams (football, boys basketball, girls/boys track-17th year of each), and he runs the school's youth basketball program. Mr. Kerns has also been Junior/Senior class sponsor twice, organized seven student trips to Washington D.C., organized and run four student international travel programs, taken part in writing State Assessment questions through Pearson for the Colorado State standardized Social Studies Test and has been an active member of the Teaching American History Grant (TAH) through the BOCES.
In 2014 Mr. Kerns was named the American History Teacher of the Year by the Columbine Chapter of The Daughters of the American Revolution.
In 2015 Mr. Kerns was named as The Boettcher Foundation Teacher winner.
During his leisure time Mr. Kerns enjoys all aspects of athletics (watching, playing, coaching), he likes to camp, fish, hike, golf, read, and travel. His favorite thing in the world to do is to hang out with his family. Mr. Kerns is married to Mrs. Candra Kerns and they have three children: Ashtin-18, Dean-16, and Cossette-13.
SCHEDULE:
1st Hour: Athletic Director
2nd Hour: Geography
3rd Hour: PLAN
4th Hour: U.S. History
5th Hour: Weight and Agilities
6th Hour: AD/JH Sports
7th Hour: JH Sports