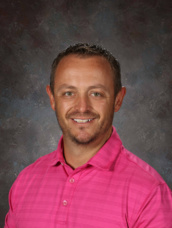 My name is Mr. Corey Green. I graduated from Byers in 2003 and then Graduated from University of Northern Colorado with a B.S. in Meteorology and Minor in Mathematics in 2007. I finished My Alternative Teaching License in May of 2011. Currently I am working on my Masters degree in Education with an emphasis in Mathematics through CSU Global.
During my free time I enjoy being with my wife of 12 years and my four children Abigale, Lillian, Emma, and Isaac, helping on the family farm, and enjoying outdoor activities. The most exciting and extreme activity that I truly love is storm chasing through the plains of the United States. I'm up to 14 tornados.
I currently teach Geometry, Algebra 2, Pre Calculus and co-teach 3-D Printing. I enjoy teaching here and trying my best to enrich the minds of these children as when I was a student here at Byers. I'm looking forward to teaching the 2020-2021 school year.
Information:
Parents and students. If you look at my subtitles under my name that you clicked to get to this point, you will find that classes I teach and a Classroom Toolkit. If you click on the classes, you'll find the syllabus to the given class. If you click on the Classroom Toolkit, you'll find the social, ethical, and legal guidelines that will be followed in my classroom for the use of technology.