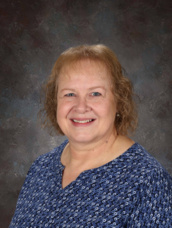 Miss Butts has been teaching Title I in Byers since 2000. She holds a B.A. in Elementary Education with a minor in Early Childhood Education from Shippensburg University in Pennsylvania. She completed her Master's degree in Education with an emphasis in Reading and Literacy from Walden University in 2005. Her greatest treasure is working with children and nurturing them. She revels in watching her students grow, both academically and socially.
She has five wonderful children of whom she is quite proud. Her most favorite activity is being with her children and grandchildren. Miss Butts also enjoys scrapbooking, singing, and learning new programs and ideas to become a better teacher. The love of learning is her passion!
Originally from Pennsylvania, in the heart of the Appalachian Mountains, she moved to Colorado in 1993. She enjoys the low humidity, and of course, the "real" mountains! She does, however, get homesick for the brilliant splash of colors during the fall back east. The entire staff at Byers School is like a family to her. It is a wonderful place to work!