Madie Slocomb
Secondary Music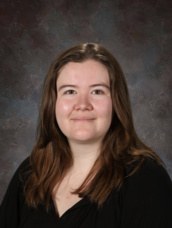 Contact information:
Email: slocomb.madie@byers.k12.co.us
Phone: (303)822-9252 x1189
Biography:
My name is Madie Slocomb and I'm so excited to be the new 7th-12th grade music teacher here at Byers! I grew up in Windsor, Colorado and graduated Windsor High School in 2016. That fall I decided to go to Colorado Mesa University in Grand Junction, Colorado to earn my Bachelor's of Music Education in May of 2020. Last year I was in Riverton, Wyoming teaching K-3 music, and now I'm looking forward to teaching secondary music here.
I grew up with lots of musical opportunities. I started playing piano in elementary school, flute in 4th grade, violin my 10th grade year, and accordion my 11th (it was for my calculus class). I was also able to sing in choir for middle school and for church.
I am overjoyed to be here at Byers and am looking forward to creating opportunities for our students to experience all that music has to offer.
Schedule:
1st Hour: Plan
2nd Hour: HS Choir
3rd Hour: Music Composition
4th Hour: HS Band
5th Hour: JH Choir
6th Hour: JH Band
7th Hour: Rock and Roll
8th Hour: Sophomore Seminar