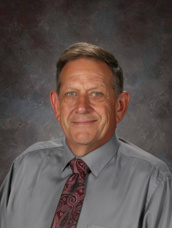 I graduated from the University of Wyoming with a Bachelor of Science Degree in Chemistry and a Bachelor of Science Degree in Secondary Education. I received my Master's Degree in Education Administration from the University of Northern Arizona.
I began my teaching experience in Yuma, Arizona where I taught high school Chemistry and Physics for 10 years at Kofa and Cibola high schools. I also coached varsity football and track. My last four years at the high school I quit coaching and began my administration experience by running Vista Alternative Night School. I taught during the day and then was the administrator for Vista during the evenings.
I began my administrative experience at Crane Junior High School as an assistant principal. Crane was a 1300 student 7th and 8th grade Junior High. We ran a year-round multi-track schedule. Since then, I have been an administrator at the high school and middle school levels for 21 years in Arizona, Wyoming, and Colorado.